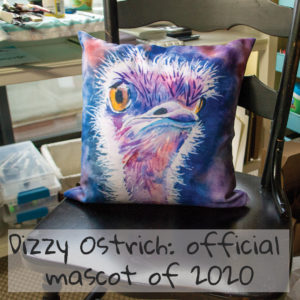 Do you have a mascot for 2020?
I painted Dizzy Ostrich two years ago, but lately he kept popping into my mind. There was something about him that was speaking to me. But what?
The wild feathers? The crazy eyes? The alert posture?
Yes, yes, and yes. But it was more than that.
This morning it dawned on me.
Dizzy Ostrich looks the way 2020 has made me feel.
Everything has changed. Family events were cancelled. Life moved online. Things and jobs and people have been lost. And politics… I won't even go there.
You know. You all know. Because you all experienced 2020 too. It's been so hard for everyone. It breaks my heart.
And yet we're all still here. Like Dizzy Ostrich, we're all tired and a little disheveled. But at the same time, we're still here. Still standing. Ready to deal with whatever comes next.
Even if some of us (I'm speaking for myself here) have developed crazy eyes.
So, I'm choosing Dizzy Ostrich to be my official mascot for 2020.
Who or what do you choose as your official 2020 mascot?