Spend the holidays with David Cassidy (or a very sexy cow!) plus a discount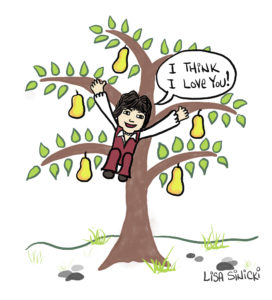 When I was in second grade, all of the other girls kept talking about this TV show that I'd never heard of—The Partridge Family. "What?" I asked. "David who?" Not knowing what they were talking about made me feel like even more of a social outcast than usual.
Anxious to join the conversation, I begged my mom to make my bedtime later so I could watch. Perhaps, if I cultivated a deep knowledge of all things The Partridge Family, the other girls might think I was cool.
I watched every week and memorized the words to The Partridge Family's hit song, "I Think I Love You" so I could sing along with the other girls at recess. I got Mom to buy me a pants suit that I wore proudly to school. And I became obsessed with David Cassidy who played the lead role: heart-throb Keith Partridge.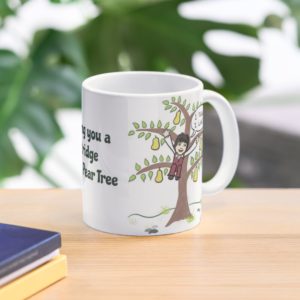 The social acceptance part didn't pan out. My robust knowledge of all things Partridge, rendered me neither more or less popular than before. But I was hooked. And I did have a lot of fun. I LOVED The Partridge Family and I LOVED David Cassidy.
I think of The Partridges every year at Christmas-time when I hear the song "The 12 Days of Christmas." It's that second verse about the partridge in a pear tree. I can't help picturing David/Keith, my favorite Partridge, nestled in the branches, serenading me.
I drew David in his pear tree. And put it on prints, cards and mugs so you could spend the holidays with him too.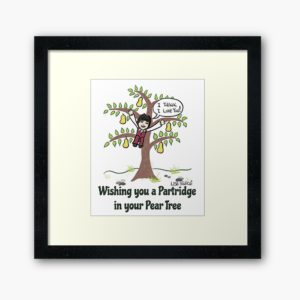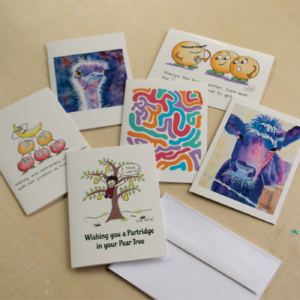 (Did I mention that art gifts are a ridiculously fun way to put a smile on your loved ones' faces.) So, As David sang in The Partridge Family theme song: "Come On, Get Happy!" with one of my cards, prints, or mugs.
Visit my shop to order holiday gifts. Use promo code AGXMER to receive 20% off. (Expires 1-4-2021) Or search my gallery to buy original drawings and paintings.