I see Demons. Ok, I don't literally see them–in the visual, discern them with your eyes sort of way. But I do see them in the figurative sense of the word. As in, I recognize and get them.
My Demons live in my head. They've been with me my entire life and they have jobs to do—important jobs.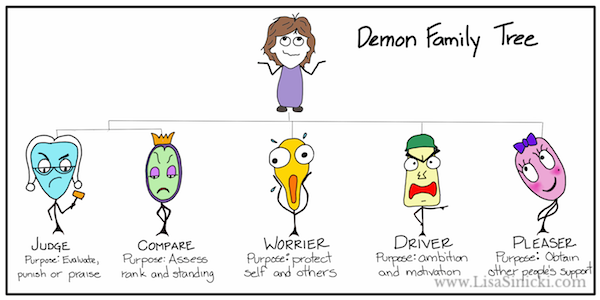 But being Demons (and not all that smart) sometimes they go overboard. And they rarely agree with one another.


Their official job–if you can call it that–is to take care of me. The problem is that they are instincts, and like toddlers, all they can do is react. My Demons exist in a logic-free zone of pure emotion. They don't understand that there is a difference between using their powers for good or using them for evil. Or that different situations warrant different degrees of reaction.
They just do what they do blindly and without thought. Like the smoke alarm in my kitchen, they go off all the same whether there is really a fire or just a bit of smoke from letting the oil in the frying pan get too hot.


On the other hand, it's much easier to understand (and laugh at) my reactions (read over-reactions) now that my Demons wear comical faces.

Demon Origin
The inspiration for my demons was a passage in Big Magic by Elizabeth Gilbert. When I read this:
"Dearest Fear: Creativity and I are about to go on a road trip. I understand you'll be joining us, because you always do…There's plenty of room in this vehicle for all of us, but understand this: Creativity and I are the only ones who will be making any decisions along the way. You're not allowed to suggest detours. You're not allowed to fiddle with the temperature. Dude, you're not even allowed to touch the radio. But above all else, you are absolutely forbidden to drive."
I saw this:


(You have to admit that it downgrades the level of panic and urgency when Worrier looks like the love child of Tweetie Bird and Edvard Munch's The Scream—with crazy Marty Feldman eyes.)
A few days later, an unrelated web search led me to an entry called Exercise Your Demons. (Thank you Google!) This site joked that rather than exorcising your demons, you should exercise them so they get tired, take a nap and leave you alone.
I pictured this and my Demons were born:


That afternoon I ordered a book on cartooning. I hadn't drawn since I was a kid so it was time to re-learn an old skill. Compare reminded me about the B+ I received in high school art class–but I proceeded anyway.
The unexpected benefit of this project has been that it's like getting free therapy.


The irony is that I would have never attempted graphic memoir if not for my overthinking about my overthinking. Perhaps overthinking isn't all-bad after all…